Austria to go into second national lockdown as Covid-19 cases grow 10 times as fast as expected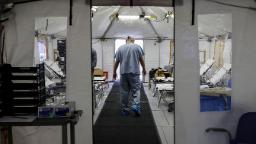 More than 53 million cases of Covid-19 have been recorded worldwide. On Friday, the US reported 184,514 Covid-19 cases in its worst day of the pandemic, according to figures from Johns Hopkins University. This is the highest number of cases reported in a single day in the country since the pandemic began, and continues a four-day streak of record-breaking totals.  
The US has surpassed 10.7 million cases and 244,000 deaths, according to JHU. 
Covid-19 hospitalizations set a new record across the US: The United States has more people hospitalized with Covid-19 than ever before, according to the Covid Tracking Project (CTP). There were 68,516 current hospitalizations reported on Friday across the entire US, according to CTP. The seven-day average for current hospitalizations is now 62,123, which is up 20.01% from last week. 
Coronavirus pandemic is "national security threat," Biden Covid-19 board member says: The coronavirus pandemic is a national security threat and President Donald Trump is exacerbating it by refusing to cooperate with President-elect Joe Biden's transition team, Dr. Celine Gounder, a Biden Transition Covid-19 Board member, said Friday.
Recovering Covid-19 patients struggle to return to normal after hospital discharge, study finds: Surviving Covid-19 is hard enough for those who get severely ill from the disease, but returning to normal is a struggle, too, according to research that found survivors were likely to face health and financial hardships even months later.
Russia reports more than 22,000 new cases of coronavirus for the first time: On Saturday, Russia reported 22,702 new Covid-19 cases, the highest number of infections it has reported in a single day since the start of the pandemic, according to data from the country's coronavirus response center.
Poland reports record coronavirus deaths: Poland reported a record high 548 coronavirus-related deaths on Saturday, the health ministry said on Twitter.
There have been 10,045 deaths in the country according to Johns Hopkins University data — the highest in eastern Europe, while JHU also reported 25,571 new cases in the past 24 hours, bringing the total number to 691,118.
South Korea's president asks public for cooperation amid Covid-19 surge: South Korea's President Moon Jae-in urged the public on Friday to cooperate in curbing the growing number of Covid-19 cases. South Korea, which was initially lauded has having kept the pandemic under control, diagnosed 166 local and 39 imported cases on Friday, bringing the total number of cases to 28,338.