New York Times: Rudy Giuliani put in charge of Trump's election lawsuits after series of losses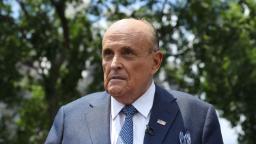 Citing four people familiar with the matter, the Times reported Friday that Giuliani is now overseeing the lawsuits to throw out ballots and turn around Trump's election loss, as well as public relations for the cases.
CNN has reached out to the Trump campaign and Giuliani for comment.
The shakeup follows a
brutal series of losses
for the President in court Friday, as nine cases in key states were denied or dropped in one day.
According to the Times, Trump is trying to use all possible means to change the election outcome and wants those he views as "fighters" making his case to the public.
But Trump has refused to accept the results, instead pushing unfounded theories about widespread voter fraud and mail-in ballots and that the election has been stolen from him. His campaign has filed a flurry of legal challenges, based on vague and unsupported allegations of fraud or using little evidence to lay out grievances about minor ballot processing access.
On Friday, the Trump campaign was dealt defeats in three significant states for their post-election fight — Pennsylvania, Arizona and Michigan.
CNN's Katelyn Polantz contributed to this report.